ABOUT: People
The young, cross disciplinary and dynamic team that makes URBMATH to what it is today, is a reflection of the super diverse projects the bureau is involved in. URBMATH employs people on project base. Average bureau occupancy ...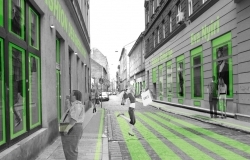 WORK: KOVABU / CONCEPT FOR VACANCY
In this concept for vacancy in Budapest we facilitate, educate and situate the latent backbone of the city's new economy; the creative class. By envisioning a model that is inextricably linked with each other. Where this grou...