PARK070 | A DISTINCTIVE HOUSING COMPLEX
dwellings for highly diverse customer segments / Voorburg, NL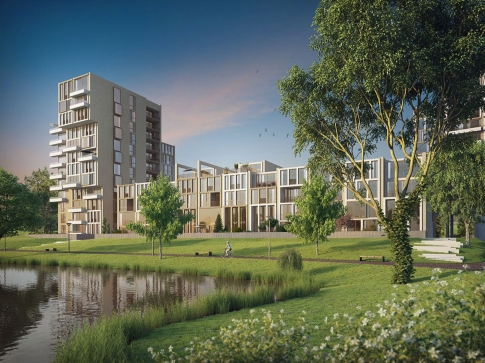 Client: Architektenkombinatie for BPD / Schouten & De
Period: 2016
URBMATH has advised the lead architect. Through a quick scan of the detailed brief on the core values and consumer segments a promising approach was concisely formulated. Leads were provided which enabled the architect to translate the brief into innovative spatial and programmatic elements.
impression courtesy of; Schouten & De Jong / BPD / De Architektenkombinatie
Particulars:
- New housing complex, 200+ dwellings, on location of the CBS building; largest vacant office building in the Netherlands. Approx 60.000 m2!
- Transformation of a historical icon from the year 1973, located in a Dutch town called Voorburg.
Delivered services: